Irrigating fields efficiently is the be-all and end-all of successful farming. To ensure that valuable resources are not lost to adjacent fields or roads, the irrigation angles of the big volume guns must be changed manually. In future, this time-consuming work will be taken over by the patented Komet Twin Inverter, as with this device, the sector angles of the sprinkler are changed automatically.
Small Device – Huge Effect
Those who want to use their resources wisely or avoid unnecessary discussions with their neighbors should only irrigate within their own field boundaries. Does the field border a road or another farm, irrigation is started towards the irrigation machine. Subsequently, the sector angle of the big volume gun has to be changed manually in order to adjust the irrigated sector accordingly. "This is not only annoying but also time-consuming. That's why we wanted to automate this process, and we succeeded in doing so with the new Komet Twin Inverter," says Arno Drechsel, Komet's CEO.
Two Sector Angles for One Big Volume Gun
The patented Komet Twin Inverter allows to irrigate two completely independent sector angles with only one set-up before starting the irrigation system. "For the big volume gun to change its irrigation angle during operation, a time-controlled mechanism is required. With the Komet Twin Inverter, the big volume gun automatically switches to the second irrigation area after a pre-set time has elapsed," Arno explains. If the sprinkler is subsequently to switch to full-circle operation, there is a corresponding full-circle adapter available.
Electronic Timer with Standby Function
A timer is integrated in the Komet Twin Inverter, which is activated through a movement of the big volume gun. The time for the first sector angle can be set to a maximum of 999 minutes. As soon as the timer is activated, however, it does not immediately start the countdown, but remains in a standby mode for up to 36 hours. Only when the water passes through the big volume gun, the timer starts its countdown. "Basically you can position the irrigation machine in advance, set the timer to standby mode, and only switch on the pump when it is time for irrigating. This way, I don't have to go out to the field again", says Arno Drechsel about the advantages of the new Komet Inverter.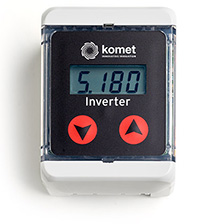 Tired of adjusting your irrigation machine manually? Don't hesitate to contact us.